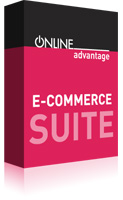 E-Commerce
The Online Advantage E-Commerce Suite is designed to assist companies in the electronic trading and exchange of knowledge and information over the internet. It comprises Business-to-Business (B2B), Business-to-Consumer (B2C), and Business-to-User (B2U) modules.
Click here to view our E-Commerce Portfolio
E-Commerce is about increasing productivity, reducing inefficiencies, cutting costs and improving relationships with your customers, suppliers and employees. To be successful, it requires integration of disparate systems and it should work for the whole business, not just one department. Creating a web-based ordering system that doesn't talk to your accounting or inventory system is plain and simple folly. In the long term, there is also the need to interact with systems that belong to partner companies on other networks.
These modules enable your company to have the best of both worlds by turning your business software into an integrated business solution where sophisticated business to business, business to consumer and remote staff transactions can be handled quickly, easily and securely.