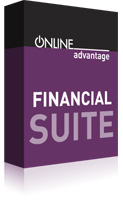 Accounts Receivable
Our Financial systems provide the tools required to keep management informed on the state of the business and confident that the correct controls are in place to protect the stakeholders ensuring informed decision making and success.
The Online Advantage Accounts Receivable module puts you in control of customer creation, management and debt collection.
Whether manual or automated, an efficient Accounts Receivable control system is a key element in any successful operation. Online Advantage provides that control. The multi-currency module caters for the processing of Invoices, Credit Notes, Cash Receipts, Journal Adjustments, Bad Debts Write-Off and Statement generation.
Features
Analyse the Health of the Business – monitoring customer activity levels, debt collection performances
Service to Customers – custom credit terms parameters, ledger display by age of debt, automatic receipts allocation, detailed transaction recall
Bad Debts Recovery – bad debt register allows recording of debt write-off values and details, notes and tracking/reporting on all write=offs
Customer Reporting – flexible, customized reporting options with access to years of historical data
Multi-Currency – the ability to maintain debtors balancing in a "mix" of currencies so one debtor can have transactions on their ledger in local currency, and multiple other currencies at the one time
Strong Interfaces – to General Ledger, Inventory, Point of Sale and Order Entry modules allow quick information look-up without compromising system security or losing track of the original request/process
Debtors Statements – flexible ageing periods allowing automatic weekly, bi-weekly or monthly statements plus the ability to produce once-off or interim statements anytime
Debt Collection – Overdue Debtors function for debt collection and Follow-Up system for recording customer promises which are automatically cleared when amounts equal or greater are received through cash receipts
Functions
Process foreign debtor transactions and receipts in multiple currencies
Establish Return Reason codes for Credit Note analysis, also designating whether stock will be affected when that Return Reason is employed on a Credit Note
Provision to charge overdue interest on delinquent customer accounts
Customer "notes" function allowing you to record and categorise an unlimited number of memos against your customers for future reference
Buying Groups and/or Head Office and subsidiary account structures
Customer Discounts, Contract Pricing, Price Group and Price level settings and Product Group based discounting
Statements, along with sales dockets, may optionally be faxed or emailed to customers rather than incur the cost of printing and mailing
Trading Terms setup that allows you to nominate the number of credit days allowed per credit classification
Manual Credit Flags for "Stop", "Hold", "Unapproved Account", COD, and CBD credit status
Select from three types of Debtors Statements as follows:

Balance Brought Forward
Open Item
Complete Open Item

Setup customer Statement requirements as follows:

Always print a Statement if there are transactions on Account
Don't print Zero balance Statements
Don't print Credit balance Statements
Don't print Zero/Credit balance Statements
Never print a Monthly Statement
Never print a Statement
Benefits
Real-time Credit control – with credit limits and credit terms that put your Credit Controller in the driver's seat as Orders are processed
Time & Costs Saving – through the delivery of documents like Invoices and Statements electronically to multiple contacts as required
Improve Cash Flow – by hauling in the number of days it takes for debtors to pay you using our built-in debt collection tools