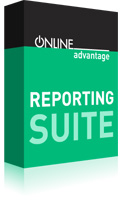 Reporting
The Online Advantage Reporting Suite is designed to assist companies with the creation, viewing and analysis of all standard and customer ad-hoc reports across all the applications suites within the business management application.
Our philosophy here is "Data In, Insight Out"
Our Reporting Suite contains the following modules:
Never before has management had a greater need to access their business data, create meaningful reports and deliver these reports to the people who need it. Our Reporting Suite allows you the ability to access, format and deliver information inside and outside your organisation to drive better decision making.
Reporting is the process of accessing data, formatting it and delivering it to the users who require it, both internal and external. Online Advantage is second to none in collecting and storing financial, operational and statistical data and includes many hundreds of standard reports that can then be used with our Design, View and Analyse tools.
Design — the process of creating reports, either from existing reports, or as new reports
View — where all reports end up, our Report Viewer allows you to navigate, search, save, print, email, fax, archive and manipulate your report data
Analyse — our Reporting Suite comes complete with it's own built-in slice and dice analysis tool so you can get the most from your data