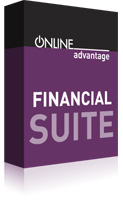 Accounts Payable
Our Financial systems provide the tools required to keep management informed on the state of the business and confident that the correct controls are in place to protect the stakeholders ensuring informed decision making and success.
The Online Advantage Accounts Payable module provides you with the vital expense controls needed for your business.
Optimising the Payables function is imperative for any business wanting to get maximum benefit from available capital to gain control over business expenses. A flexible coding structure and direct interface to Purchasing and Assets provides simple controls and the reduction of double-entry. The system minimizes payments, giving you complete control over what and when to pay, saving considerable time often spent in analysing supplier documentation and preparing payments manually.
Features
Foreign Currency – accepts foreign currency invoices and can revalue the organization's liability at any time based on current exchange rates
Detailed Expense History – month-by-month record of spending by item, by supplier or in any combination
Multiple bank accounts – supports multiple bank accounts in any currency with manual or automatic payments via system printed Cheques or Electronic Funds Transfer (EFT)
Electronic Banking – electronic transfer of payments details via banking software
Strong Interfaces – to Manufacturing & Job Costing permitting expense allocations against Work Orders/Jobs/Projects
Comprehensive Reporting – A broad range of reports and display functions providing complete purchase histories, creditors ledger and balances, outstanding and un-presented cheques
Standing payments – performs the regular transactions for you automatically
Hold payments – tracking and controlling payment including the ability to adjust transaction payment due dates
Remittance Advices – which can automatically be faxed or emailed to creditors, reducing your costs for printing, postage and handling
Control – provision to record credit limits and minimum order value against creditors helping maintain a sound business partnership with your suppliers
Functions
Process creditor invoices and credits dissecting to general ledger expense accounts or posting to Purchasing Shipments to reverse purchase accruals postings
Make Journal Adjustments to adjust a creditor's ledger or to move transactions from one creditor to another
Perform manual or automatic payments and use the Payments Refund facility to reverse them and put outstanding transactions back on the creditor's ledger
Selling Groups and/or Head Office and Subsidiary account structures
Adjust Hold Payments, Due Dates and Settlement Discounts through the life of the open transaction
Create "One-Off" creditors that automatically delete when there are no longer outstanding transactions on the ledger
Creditors "notes" function allowing you to record and categorise an unlimited number of memos against your creditors for future reference
Benefits
Time Savings – through the use of the standing payments system for repeatable transactions
Real-time Expense Control – that allows you to stay on top of your running expenses with credit limits and credit terms that put your Credit Controller in the driver's seat
Costs Savings – through the EFT payment facility and the delivery of documents like Remittance Advices electronically to multiple contacts if required
Improve Cash Flow – with tools that help you pay your creditors easily and when you want
Foreign Currency – accepts foreign currency invoices and credits and you can revalue the organisation's liability at any time based on current exchange rates