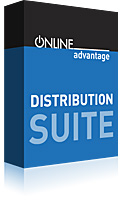 Distribution
This suite provides solutions that automate processes, drive sales, improve productivity, plan inventory, cost stock and enhance customer service.
Our Distribution Suite comprises the following modules:
These modules will help you effectively manage the flow of goods to satisfy customer demands at multiple operating locations. This suite lets you take control of your business – and profit from all your hard work.
Online Advantage provides greater visibility of your supply chain and control over your logistics and warehouse costs. Our fully functional integrated stock distribution & inventory management solution is vital if you want to boost warehouse productivity, reduce logistics costs, improve inventory accuracy, and raise your order service percentage to keep your customers satisfied.