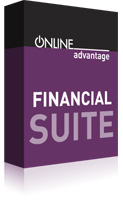 Royalties
Our Financial systems provide the tools required to keep management informed on the state of the business and confident that the correct controls are in place to protect the stakeholders ensuring informed decision making and success.
The Online Advantage Royalties module covers the requirements of manufacturers and distributors who pay a royalty to a third party based on the movement of stock lines under contract.
The Royalties module also caters for non-product related royalties. For example, an advance paid to an artist prior to a contract attracting a royalty.
Features
Contract Maintenance — catering for the establishment of an unlimited number of Royalty Contracts with one or more product lines
Royalty Recipients – allows you to record who the Contract is with, per Creditor and to have optional Royalty Recipients on file to split out a contract into individual recipient sections
Other transactions – is a facility to include other "financial" transactions onto a Royalty Statement and list such items as advances or agreed product expense claims
Accounts Payable Interface – sees the Royalty system automatically create invoices on the nominated contract creditor for the value of the royalty statement so these can be paid in due course without additional processing by your payables staff
Automatic Calculation – a variety of royalty calculation methods to be used per contract per product line
Statement Generation – including optional faxing/emailing of Royalty Statements and Remittance Advices
Functions
Royalty Contracts Maintenance– covers the following details:

Entry of the Creditor/Payee for use in Accounts Payable
Optional Recipient Entry
GL account to be used to take up the Royalty Expense
Contract Start and End Dates
Payment/Royalty Reporting frequency in months
Next Payment Date
Freeform Text/Contract Comments of unlimited length
Unlimited Products with Royalty calculation method per product

Royalty Calculation – the following calculation methods are available:

Percentage of a Nominated Nett Price
A Fixed Value per Quantity Sold
A Percentage of a Nominated Price List Value

Calculation Method – select from three types of sales as follows:

Normal Sales
Special Sales
Nominated Buying Group Sales

Creditor/Recipient Reporting – this module comes with a series of standard reports by contract creditor and contract recipient. A selection of the reports available is listed below:

Royalty ledger
Royalties due for payment
Royalty transactions
Royalty details
Interim transactions
Interim details
Benefits
Time Savings – once setup, the Royalties system never misses a transaction as it generates your contractual liabilities without any additional human intervention
Audit – the royalties module provides a central place for performance or contract review with historical reporting and transaction details
Control – having an online and integrated royalties system keeps you in control of your financial commitments as you go rather than having the expense suddenly hit your P&L in an ad-hoc way as time permits to manually calculate your contractual exposure