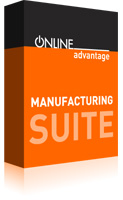 Manufacturing
An integrated Manufacturing suite that has tight interfaces to the Stock Control, Purchasing and Financials systems of the business takes all the pain out of the processing for Manufacturers.
Whether you are making to stock or building to customer's specifications, a system that can pull out real-time raw material costs and stock availability for you is an essential requirement.
Our Manufacturing Suite comprises the following modules:
Our Manufacturing Suite is made up of the modules you need to successfully cost and control your factory operations whilst planning your requirements for labour, materials and plant such that you can predict your future position and plan accordingly. Let this suite do the hard work for you.