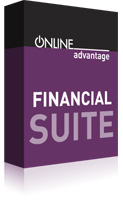 Financials
A comprehensive set of accounting ledgers is essential for a healthy business. Without strong control of the finances of a business, the sales and marketing activities are wasted.
Our Financials provide the tools required to keep management informed on the state of the business and confident that the correct controls are in place to protect the stakeholders.
Our Financial Suite comprises the following modules:
When you need to check on the health of your business at a moment's notice, then look no further than the Online Advantage Financial Suite. Not only will you know exactly what you owe your creditors and which customers have outstanding debt, you'll know your cash position and forecast no matter what currency, your up to date Profitability, and Assets, Liabilities and Capital summaries as and when required.
All this at your figure tips and retrievable by branch, cost centre, division, department or other summary levels as required.