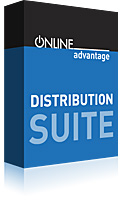 Inventory Control
These modules will help you effectively manage the flow of goods to satisfy customer demands at multiple operating locations. This suite lets you take control of your business – and profit from all your hard work.
The Online Advantage Inventory module introduces a new level of detailed control and accuracy to reflect the ever-changing business conditions which place a strain on your stock requirements.
Effective stock management with our Inventory system allows much more than just reducing capital investments in stock. It means being able to satisfy the varying demand for product and fulfill the customer's requirements in a timely manner. It also means being able to identify (and avoid) over- or under-stock situations and their inevitable reduction in profit. The module provides a range of facilities to keep the delicate balance of optimum stock levels and stock control. It gives you the right information at the right time in the right format, enabling you to quickly analyse and act accordingly.
Key Inventory features include:
Definable Product Structure – user defined settings and structure (see Inventory Overview Schematic) that includes:

Product Division
Product Category
Product Group
Model
Size
Colour
Product Type
Product Material
Product Class
Product Section

Flexible – multiple and unlimited Warehouses and Stock Locations
Item Tracking – Serial, Batch, and Dual unit Reference Tracking on a Product or an Inventory item
Dual Quantity – track stock levels in dual quantities e.g. 10 rolls = 91.75 metres, 5 sheets = 31.24 square metres, 1 can = 25 litres – great for rolls, sheets, or fluid product
Units of Measure – multiple units of measure with variable conversions per product for Stock (Each/Inner), Purchase (Box/Outer), Sales (Carton) and Warehouse (Pallet) units
Stock Transfers – including both inter-branch and intra-branch stock transfer order processing and automatic replenishment
Related Products -support for alternative and complementary products
History -view stock movements based on Usage and/or Demand
Demand Formulae – 19 standard and 3 user-defined formula for the calculation of Demand forecasts
Stock Take – Perform cycle counts based on last count date
Labels – print Product bar code labels as you receive product
Stock analysis – automatically setting every items ABC analysis category and Line Demand division
Replenishment – suggested stock replenishing with multiple and preferred suppliers
Lead Time – system calculated average lead time and complete replenishment history and cost change audit on every stock item
Bin Location – unlimited warehouse shelf locations and three types of bin tracking including multi-bin tracking per item quantity
Bar Codes – unlimited bar codes per product allows you to make full use of Bar Coding technologies to scan
Stock Costing – a choice of costing methods like Average, Replacement and Standard Cost
Functions
Comprehensive stock transfer processing with internal "pricing" options
Stock usage, demand and movement reporting
Integrated stock take facility with variance reporting
Multiple stock formulas to select from
Stock forecasting facility based on demand and historical movements
Detailed status displays and flexible look-up facilities
Stock Take Tally Sheets or Stock Take Tickets
Stock Issues facility for manual write-downs
Stock Valuation maintenance facility for cost adjustments
Bin Transfer utility and Bin display – see what products are in a Bin and see what Bins a product is in
Stock inwards labeling including bar code printing with support for over 27 different bar code formats
Manual Stock Receipts function for an alternative to Purchasing
Serial Number and Batch Tracking displays including historical viewing of all related transactions – see where a certain "batch" of product was used and who purchased it
Ability to record unlimited categorised "Notes" on individual Products, Inventory items, Serial Numbers and Batches of stock
Product Knowledge-base so that all your "product" based information can be easily used/shared within the business and optionally via the web portal for such things as product specification sheets, pricing, product details, handling and disposal procedures, manuals, pictures, QA testing results etc.
Benefits
Lower Stock – reduce the money invested in inventory holdings and improve your cash holdings
Timely Replenishment – you can't sell what you don't have…or what you can't get quickly
Control – you will know exactly what you have in the warehouse, where it is and how much it cost
Stock Analysis – we can show you what products you should stock, which ones are not so important so you should keep more of them versus the ones that are important so you should keep less! (Please ask us if that statement doesn't make sense to you)
Visibility – of your stock levels within the organisation to customers, re-sellers, suppliers and smaller branch offices all via the internet