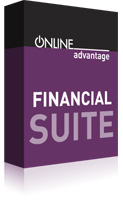 Asset Ledger
Our Financial systems provide the tools required to keep management informed on the state of the business and confident that the correct controls are in place to protect the stakeholders ensuring informed decision making and success.
The Online Advantage Asset Ledger accurately maintains and controls the financial values of a company's assets.
The Asset Ledger module combines the functionality of an asset register with the power of an asset ledger. It is the easiest module to run on an on-going basis as all the work is in the setup of Assets. Once you are up and running this ledger really does all the work for you. The system records original cost, maintains the re-valued cost, calculates depreciation values and posts the results directly to the General Ledger.
Features
Depreciation Forecast – calculated according to the depreciation method specified for each asset
Revaluation – the ability to revalue an asset at any times, and any number of time, during the life of the asset
Deprecation Methods – choose from either Diminishing Value or Prime Cost deprecation methods
Asset Disposal – a feature of the module is an asset disposal facility which can be used to write-off a sold, stolen, damaged or broken asset
Payables Interface – an important time-saving interface to the Accounts Payable and Purchasing modules sees the capture of asset acquisition details when a new asset is purchased saving data entry and prompting the creation of the new asset and the setup of the deprecation method
Posting Allocation – the General Ledger postings for an assets depreciation can be setup to automatically be apportioned by percentage across specified branches and divisions because some assets can be shared by different business units
Functions
Reconciliation – built-on tool for reconciling the Asset Ledger with the General Ledger
Tracking – allocate assets to Groups, physical Locations, Branches or Divisions
Asset Details – record serial numbers, quantities, identifications details and notes against individual assets
Reports – Depreciation schedule reports for taxation and commercial purposes
Asset Display – gives users all information about an individual asset in one function showing an assets history, purchase costs, depreciation method and Life to Date, Year to Date and last month depreciation values etc.
Asset Notes – a built-in tool for adding categorised notes (unlimited text) against individual assets for recording additional non-financial information
Default Depreciation – establish default depreciation settings per Asset Group
Asset Register – many different asset register reports which can be used for asset audits
Depreciation Schedules – Year End Commercial and Tax Depreciation schedules which can be used for end of year End Financial Reporting and Tax Return preparation
Benefits
Control – is a system to provide easy control over the creation of your assets and the reconciliation to your General Ledger
Time Savings – no need to run a series of spreadsheets or manual calculations with manually entered journal postings – set the Asset Ledger up once and it does the rest for you over the life of your asset
Ease Of Use – Provides you with an instant asset register and depreciation forecast any time you need it without any effort