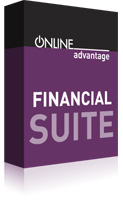 Cash Management
Our Financial systems provide the tools required to keep management informed on the state of the business and confident that the correct controls are in place to protect the stakeholders ensuring informed decision making and success.
The Online Advantage Cash Management module is a complete system for the Reconciliation, Reporting and Forecasting of Bank Accounts and related receipt and payment transactions in their nominated currency.
The Cash Management module is seamlessly linked to the other ledgers so receipt and payment transactions flow directly into the cash book for you. It is designed to improve your cash flow, assist with the control of the business finances and provide you with your exact cash position at any time. It lets you create and use an unlimited number of bank accounts, in any currency you require.
Features
Cash Forecasting – lets you predicate your cash position in future periods by performing a forward view of the bank balance of the company in time periods to suit you
Bank Reconciliation – integrated across the Accounts Receivable and Account Payable ledgers feeding into one central cash book
Multiple Bank Accounts — create and use an unlimited number of bank accounts in any currency and always receive the correct balance
Electronic payments — support's the ability to both receive electronic payments from customers and to make electronic payments to suppliers
Functions
Bank Reconciliation — a completely integrated facility. Bank accounts can be reconciled in their functional currencies
Electronic Bank Reconciliation — quickly and accurately matches each transaction in your cash book automatically (in conjunction with your Bank's nominated software or web portal offering)
Cheque Register – provides a record of all cheques drawn differentiating between held, sent and presented
Bank Deposit Slips – automatic generation of Bank Deposit Slips and Deposit Summaries from receipt transactions
Cash Forecast – rolling in projected cash receipts from debtors, future creditor ledger payments and even Purchasing and Standing Payment future commitments into a forward cash flow forecast
Reporting – Cash Payment, Cash Requirements and Foreign Currency requirements reporting
Benefits
Control – what better way to get control over your banking than with a full integrated cash management system that uses data from the transactions in the other ledgers
Time Savings – through the use of the our electronic bank reconciliation tool and with the use of EFT payments and electrically delivered documents
Information – know your cash position taking into consideration all the transactions you have in the system including future commitments so you can make informed decisions