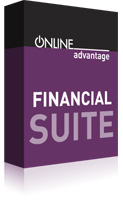 General Ledger
Our Financial systems provide the tools required to keep management informed on the state of the business and confident that the correct controls are in place to protect the stakeholders ensuring informed decision making and success.
The Online Advantage General Ledger module delivers all the power and control you need to consolidate your financial performance as you grow your business.
Being fully integrated with all the other Online Advantage modules provides an up to date financial picture on the health of the business.
Features
Custom Account Format – the General Ledger account structure can be tailored to conform to any business configuration and accounts can be grouped to suit the needs of the business
Budgeting and Forecasting – comprises a comprehensive forward period forecasting facility that integrates to the reporting mechanisms
Flexible Reporting – extract data monthly, quarterly, yearly, in summary or detailed format. In addition, ad hoc reporting as a one-off or for regular use including customised financial statements to meet specific reporting needs
Ledger Structures – for reporting these can be defined to ensure that financial information is represented in the most useful and appropriate style to facilitate analysis by different people or departments within the organization
Postings Flexibility – can be dissected by Branch and/or Cost Centre (Division) as required and there is a facility to automatically apportion postings by percentage
Auto Asset/Liability change – A facility that moves accounts automatically from asset to liability as the balance changes – very handy for bank accounts that can be an asset or a liability when overdrawn
Automatic Postings – the subsidiary ledgers post directly through to the GL and allow you the ability to drill-down into the transaction detail in the interfaced ledger
Record Keeping – Complete auditing and reconciliation facilities including the ability to record notes against accounts and keep 8 years of details
Statistical Accounts – non-financial data can be captured and reported on for supplemental financial information
Functions
Ledger Enquiries – full 'drill-down' from account balance to journal totals, journal details and/or subsidiary ledger transactions for current or prior years. You can even see the Payee on a cheque!
Previous Year Processing – allows you to post back to months in the previous year and have adjustments roll forward to the current financial year
Valid Account Postings – this function give you ultimate control over your postings to the GL from the subsidiary ledgers as it allows you to explicitly list the accounts that can be used on each and every specific function in Online Advantage e.g. Manual Payments, Bank Reconciliation, Stock Issues etc.
Forecast Builder – tools can be used to build a budget or forecast from historical actual account balances and apply factors to the actual figures to inflate/deflate them, or simply upload a forecast/budget from a spread-sheet
Account Display – can be used to review monthly balances, drill down to posting, compare actuals to budget, and summarise an accounts use over branches/divisions
Account Notes – the facility to enter free form text notes against an account has been included to give you a place to record details about an account, a posting, or a particular reconciliation you have completed
Profit Display – the ability to look at the profitability of the company, or a branch or division, (or combinations of them) on screen for one month, a year, month by month or quarter by quarter
Journal Upload – a tool used to upload new General Ledger Journals for editing and posting directly from a file created in Excel or a similar spreadsheet program
Benefits
Grows with the Business – the ledger structure can be changed at any time and balances moved from account to account as needed
Historical Access – Easy access to all historical data for up to 8 years
Time savings and accuracy – Automatic allocation of postings to specific ledger accounts allows costs to be distributed equitably across multiple Branches and/or Divisions. Saves you time and manual intervention and ensures greater accuracy
Control – Specific accounts may be associated with individual processes to provide tighter control over where manual postings will be applied in the General Ledger