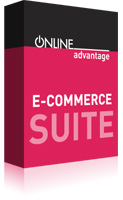 E-Commerce Portfolio
The Online Advantage E-Commerce Suite can be used to address a variety of "online" business needs depending on the requirements of your customer base. We have both "retail" sites running that are "open" to the public (B2C) as well as secure portal sites that require login before the details within can be accessed (B2B).
Below are samples of some web based solutions that we are hosting at our data centre for our clients so that they can service their customers more efficiently.

Australian Aluminium Finishing (AAF) is Australia's largest dedicated coater of aluminium in Australia with 11 production facilities. They service metal fabrication companies throughout Australia and South East Asia. Their Online web portal allows their customers to track their orders through the AAF production facilities in real-time including progress views and the ability to view drawings of the metal pieces provided to AAF for treatment. Their web site can be viewed by clicking HERE.

Boral Timber has become one of the largest suppliers of certified hardwood and softwood in Australia with a wide product range including flooring, structural timber, decking, furniture timber, decorative and cladding. Boral Timber's products are used for structural, commercial and renovation markets and are distributed across domestic and export markets. They use their Online web portal to allow their trade and wholesale clients to view their product range and look-up current prices. Their web site can be viewed by clicking HERE.

Heatleys Safety & Industrial supplies a wide range of quality industrial and safety products to all facets of the Industry. With a large network of major industrial suppliers on their side, they are able to supply the largest range of industrial and safety products to anywhere in Australia. Heatleys have an Online B2B web portal under login which can be viewed on their web site HERE.

Perfection Group International is one of Australia's leading suppliers of customised promotional products with over 80 years' experience. They can design and manufacture key rings, badges, pins, corporate jewellery, coins, tokens, medallions, key tags and an assortment of related items. They provide functions on their Online web portal to allow users to browse their complete range of products and to specify their custom requirements to obtain a quote. Their web site can be viewed by clicking HERE.