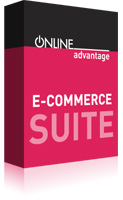 Business To Business (B2B)
E-Commerce is not just about increasing Sales. It is also about increasing productivity, reducing inefficiencies, cutting costs and improving relationships with your customers. To be successful, it requires the integration of your systems, up-to-date knowledge about your products and services and related information that will motivate your customers to keep coming back to your site.
The Online Advantage B2B module delivers all the power of your customer ordering and product catalogue systems directly to your clients over the internet using a secure hosted service.
Business-to-Business (B2B) is that portion of E-Commerce specifically targeting business-to-business interaction. B2B typically brings together employees, customers and business partners to eliminate many of the manual inefficiencies using an online model.
Take a look at this sample B2B web portal system One Stop Computer Shop.
Features
Self-serving – with 24 x 7 access, you can keep your business open 24 hours a day, 7 days a week. Your customers can log into your portal to place their own orders, check on product pricing and availability, download the latest news and more whenever they want
Automated – the web based portal talks directly to the accounting and inventory components of your Online Advantage back-office system
Personalised – by delivering tailored customer-specific content (pricing, products, news etc.). Your customers can browse your complete product range via the product catalogue, or only the parts you want them to see
Product Catalogue – you structure the menu navigation using product type, product group, supplier brand, product categories and sub-categories. View product catalogue information, including product details, pricing, photos and product availability
Secure Access – log into your Online B2B via a secure (SSL) connection. You know that you are within a secure Online B2B session by the padlock icon in the status bar of the browser window. All data transmitted during your Online B2B session is encrypted
Consistency – all the features of the B2C module are available in B2B system in a similar style without needing to maintain two systems
Informative – let your customers review and place orders, browse your product catalogue, see stock availability, their net buy price, read from your product knowledge base, check order delivery status and so much more
Functions
Home Page – the "Welcome Page" for your customer shows them your Product Catalogue along with their order summary, credit terms, account details & balance summary, delivery details and their Account Rep
Track Orders – view a summary of all outstanding orders and/or back orders – including order date, required date, despatch date, order value and current status
Transaction Details – drill-down on outstanding orders and/or back orders to individual products lines which link through to your Product Catalogue
Suggested Orders – customers can create their order using suggested quantities based on their recent purchasing activity to save time
Latest News – provide customers with your latest news, promotions, new products under a secure login. Publish new release information, download confidential documents, reseller or channel information updates
View History – customers can view monthly ledger summary, Invoices and Debtors Statements
Draft Orders – give your customer a chance to build an order over time with this facility or they can simply use it as a tool to print product pricing
Order Charges – apply automatic order surcharges based on rules like minimum order value
Catalogue Features – built-in flexibility that will automatically show product Colour and Size options where appropriate, along with Complementary/Companion and Alternative products where they exist
Knowledge Base – use your portal to publish information about your products linking to web pages, other products, technical specifications, "how to" guides, documentation, pictures, videos, product specialists via email addresses, spread-sheets, and pretty much anything you can think of
Service Surcharges – include "service" charges on your Product Catalogue where they relate to specific types of products
Product Search – let your customers search for your products using your Product Code, Product Description, Extra Description, your Supplier's Product Code and Bar Code number
Payment Gateway – customers can order direct and pay online with EFT transfer directly to your bank account or via "offline" checkout methods
On Demand Price Lists – let customers request a price list from you electronically anytime via your secure portal
Benefits
Real Time – any change in price, availability or order status is instantly reflected on your portal without ANY extra effort
Reliable – designed and developed by a company you know and trust to be robust and always available. Our E-Commerce portal has been built to maximise your investment in Online Advantage
Cost Effective – our B2B portal can be implemented quickly and without significant capital outlay using a pay as you grow pricing mechanism
Secure – with state of the art security, firewalls and intrusion detection along with 24 x 7 monitoring and management your E-Commerce could not be in safer hands
Time Savings – let customer's serve themselves and save you the time to take orders, look up delivery status, product information, stock availability, pricing and so much more
Remain Competitive – retain your ability to compete in the marketplace because some companies may not deal with you if you don't offer an e-Business presence. Avoid the perception that you cannot respond as quickly as your competition
Reduce Selling Costs – electronic catalogues reduce the need to produce and distribute paper catalogues
Accuracy – reduce your order management costs by receiving correct orders from your customers the first time. Just imagine…fewer customer queries…save time resolving inaccurate orders…no more lost orders
Customer Retention – protect your customer base by providing greater visibility, accessibility and deeper ties
Sales Agility – implement price changes, introduce new products, implement short-term promotions quickly and easily. You can run instantaneous special pricing that you change easily every month, week, day, hour or minute!