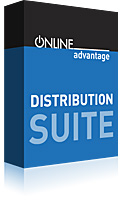 Sales Analysis
These modules will help you effectively manage the flow of goods to satisfy customer demands at multiple operating locations. This suite lets you take control of your business – and profit from all your hard work.
The Online Advantage Sales Analysis module gives you the ability to perform analysis of the "gross profit" derived from your customers, products, markets, reps, branches and other definable elements.
The rich reporting tools and breadth of information captured by Online Advantage make it possible to maintain and assess the profitability of your business. Analyse your financial position when you want. Online Advantage's Sales Analysis reports can be run at any time on current month or previous month's details and are the key to gaining control over your gross margin.
Features
Standard Sales Reports – choose from the many hundreds of standard sales reports delivered within this module such as:

Budget analysis
Top Customer Reports
Top Product Reports
Sales Orders Analysis
Delivery Statistics
Forecasted Revenues and Margins/Mark-ups
Credit Returns Analysis by Reason, Customer & Product

Analysis Elements – sales reporting structure covering over 20 summary elements (see Sales Analysis Schematic) as listed below:

Customer, Account Rep, Market Segment, Division, Category, Client Type and Buying Group
Product, Product Division, Product Category, Product Group, Model, Size, Colour, Material, Class, Type and Section
Transaction Sales Rep and Market Segment

Reporting Values – twelve sales reporting values including Quantity, Value, Cost, Contribution, Margin/Mark-up percentage, Normal Sales, Special Sales, Returns
Sales Report Writer – create your own reports with column and row definitions using the many elements available to report on
Data Export – upload your data into 3rd party application formats like Excel, Word, Acrobat, HTML, ASCII CSV and Tab/Text
Drill Down – the ability to go deeper and deeper into the sales layers and elements to answer ad-hoc questions that result from analysis of the figures
Slice and Dice – this feature brings to life the sales reports by creating different views of the same figures for flexible "on the fly" analysis
Functions
Sales Report Writer – an ad-hoc report writer specifically written for Sales Reporting and Analysis
Sales Display – an online real time sales look-up is available to view sales figures as they occur. This function shows day-to-date, month-to-date, and year-to-date and even last year figures, up to the last completed transaction. Real time sales, including gross sales, cost of sales, margin or mark-up, cash and tax collected are shown in any one of the following ways:

Total sales
Product category sales
Product group sales
Product branch sales
Product division sales
Product branch by division sales
Product division by branch sales
Product branch customer by division sales
Product division customer by branch sales
Customer category sales
Customer branch sales
Customer division sales
Customer branch by division sales
Customer division by branch sales
Customer branch product by division sales
Customer division by product branch sales
Customer buying group sales
Market segment sales
Salesperson/rep sales
Benefits
Gross Margin/Mark-up control – your expenses are budgeted and set. It's the work you do to control this that makes the company profit!
Ranking – customers and product ranking provides you with the information you need to know who to look after and who should get that discount
Flexibility – the ability to create custom reports tailored to your business requirements
Evaluate – information to help you build better relationships with customers, partners and suppliers
Insight – uncover new business opportunities, hidden cost savings or sources of new revenue
Analyse – helps you access and navigate the reservoir of data stored in your business system so you can use this data to make better decisions