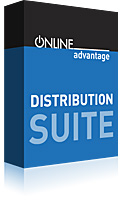 Purchasing
These modules will help you effectively manage the flow of goods to satisfy customer demands at multiple operating locations. This suite lets you take control of your business – and profit from all your hard work.
The Online Advantage Purchasing module provides all the tools required for the administration and control of all your local purchasing and importing functions.
The Purchasing module is designed to provide you with versatile and efficient order control whilst helping you minimise your investment in inventory because we understand that having stock sitting in a warehouse never made anyone any money. Our Purchasing system provides you with the tools necessary to place, monitor, adjust, cost, and report on all your local and foreign purchase orders for all your suppliers, regardless of whether you are buying raw materials, finished product, non-stock items or sundry (expensed) items used in the general office or warehouse/factory.
Key Purchasing features include:
Minimise Stock – forecast and planning tools to help determine your inventory spend
Order Tracking – keep track of items on order, overdue, expected arrival dates, vessels on the water
Versatile Order Types – control both domestic and international suppliers with the one system
Costing – handle both local and foreign shipment costing with sophisticated tools for the allocation of non-material costs like freight and handling
Order Control – control on-order details, in-transit goods, in-store stock, over and under-supplies and supplier returns
Re-order Tools – suggested re-order reporting serves as a guide to purchasing decisions
Importing – with functions to facilitate the creation, tracking and costing of foreign shipments, from one or multiple suppliers in one or multiple currencies with multiple deliveries to multiple warehouses for multiple products covered by multiple creditors' invoices
AP Interface – process delivery receipts and supplier invoices at the same time to eliminate double handling
Sundry Items – place orders and receive deliveries of general items like office stationery, factory supplies etc. posted directly to their General Ledger expense account
Functions
Shipment Tracking – enables shipments to be created from one or more purchase orders and tracked through the system with the following:

Shipping port
Vessel name
Delivery method
Departure date
Expected arrival date
Expected payment date
Shipment notes
Shipment identification number

Shipment Costing – is a comprehensive set of tools to calculate the landed cost of all items on a shipment to be used in the cost into stock and ultimately for the cost of sales of those items. Shipments can be costed across multiple currencies, each at a variable exchange rate, with different duty rates per product and duty exchange rates incorporated
Additional Costs – estimated or actual "on-costs" can be distributed across the items on the shipment to cover a user-defined range of other expenses incurred against the shipment e.g. insurance, freight, wharf and cartage
Costing Methods – each individual "on-cost" can be allocated or spread across the shipment based on a predefined selection of costing methods. These methods include each products weight, volume, the quantity shipped/received, the value of the product, a manually entered amount, or based on a percentage of the value of each product
Supplier Price Matrix – for manual or automatic creation of pricing data by supplier by individual product including the following:

Purchase unit of measure and conversion to stock unit of measure
Purchase currency
Cost to land product
Unit weight and volume
Supplier product code and product name/description
Current buy price with quantity price breaks
Next or future pricing, with quantity price breaks and "activation" date
Special pricing, with quantity price breaks and start/end dates

Monitor and analyse – Monitor and analyse the quality, accuracy and timely delivery of all purchased materials through comprehensive online displays and reports. Choose from a variety of ways to look up crucial details such as:

Supplier and shipment details
Quantities ordered, shipped and received
Pricing, weight and volume information
Duty and on-cost allocations
Shipping information (vessel, bill of loading)
Activity audit trail
Benefits
Consolidation – tools to consolidate multiple Purchase Orders from different Suppliers in different Currencies into a single shipment (container)
Price Variance Take-up – functions to automate the take-up of Purchase Price Variances within specified parameters
Buyer Limits – tracking and approval of actual purchases against established budgets and limits for each buyer
Shipment Costing – calculation of non-value-added costs (such as Freight and Insurance) based on Weight, Volume, Quantity, Value, or a fixed Percentage to compute the Landed Cost for each purchased item
Multiple Suppliers – record unique buy prices, quantity buy prices, units of measure, product, codes, names and bar codes by Supplier for a product that may be purchased from multiple sources
Currency Costing -dynamic re-calculation of purchase order values expressed in foreign currencies when exchange rates fluctuate
Minimum Order Values – held by supplier allowing for control over vendor imposed limits
Automatic Delivery – Purchases Orders may optionally be faxed or emailed to suppliers, reducing costs for printing/postage/handling and speeding up the process