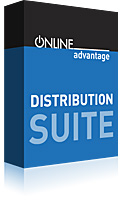 Point Of Sale (POS)
These modules will help you effectively manage the flow of goods to satisfy customer demands at multiple operating locations. This suite lets you take control of your business – and profit from all your hard work.
The Online Advantage Point of Sale (POS) module makes it easy to handle all aspects of retail sales, quickly and efficiently.
Our POS module is fully integrated with the Inventory, Accounts Receivable and Cash Management modules to allow instant access to detailed, accurate information at the point of sale (subject to security access of course). While the customer's order is being processed, the POS system is performing credit checks, confirming pricing, checking inventory details, receiving cash and allowing account customers to make outstanding payments.
Key Point of Sale features include:
Transaction Types – POS caters for the processing of the following transaction types:

Sales Dockets
Customer Returns (Credits)
Account Payments
Laybys
Petty Cash Vouchers
Special Orders
Gift Vouchers

Payment Methods – provides for multiple payment tendering methods as follows:

Cash – with automatic change calculation
Cheque – with prompts for recording full details
Account – allows debtors to purchase over the counter
Credit Card – includes all variations of banking methods
Gift Certificate
Split Tender – use multiples of any of the above methods

Till Control – supports multiple registers operating on a single till or individual tills per register and comes complete with:

Till Opening and closing functions
Float allocation
Reconciliation report
Deposit Summary report
Deposit Slip print for Banking
Interfaced to Bank Reconciliation system

Scanning – integrated Bar Code scanning of Product code, Suppliers Product code, EAN etc as required. You can even scan in rep codes and customer account or membership numbers
Functions
Cash Control – Till and Banking reconciliation tools:

Open, close or re-open tills at any time
Produce till reports in summary or detailed formats
Perform till adjustments
Complete till reconciliation
Run multiple tills at the same time
Share tills between registers

Security – built-in security features combined with full audit trails, activities recorded on who did what, and when, and comprehensive reporting on price and discount changes
Reporting – reports that are specific to POS include:

Sales summaries
Product sales
Outstanding sales dockets
Lay-by reports (summary and detailed) by value, issue and expiry date
Gift certificate sales or redemption reports for the day or a date range

Till Reports – include the following available reports:

Till summary
Complete till details
Deposit slip

Other – some other functions available in POS are:

Automatic calculation of change due
Automatic rounding (up or down options available) for cash transactions
Multiple cash drawer/till support per register
Customised user-definable docket layout, and adjustable wording for the header and footer message
Suspend facility on new transactions when you need to serve another customer with recall so you can complete the later
Batch processing facility enables you to continue recording sales even during a Stock Take or End of Period processing
Benefits
Real-Time – completely integrated in real-time to the back-office systems of Stock, Debtors, Cash Management etc. with instant feedback via Sales & Cash displays
Reliable – designed and developed by a company you know and trust. Our POS system is online and always available, built to maximise your investment in Online Advantage
Control – increased security and control through our built-in margin checking, audit trails, access control and till balancing routines
Informative – improve customer service with the ability to see stock in other stores and stock locations and to look-up availability and next incoming order details
Sales Agility – implement price changes, introduce new products, implement short-term promotions quickly and easily. You can run instantaneous special pricing that you change easily every month, week, day, hour or minute across all business operations!