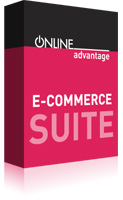 Business To User (B2U)
E-Commerce is not just about increasing Sales. It is also about increasing productivity, reducing inefficiencies, cutting costs and improving relationships with your customers. To be successful, it requires the integration of your systems, up-to-date knowledge about your products and services and related information that will motivate your customers to keep coming back to your site.
The Online Advantage B2U facility empowers your employees with access to information because wherever they are, they can access your business critical information systems over the internet. All they need is a browser!
Our B2U service facilitates remote and secure access to your Online Advantage business system anytime, anywhere.
Take a look at this sample B2U web portal system One Stop Computer Shop.
Features
Availability – allows secure internet based connectivity to your system for:

Mobile staff e.g. reps, management
Virtual office and home office staff
Your external consultants and/or accountant
Out of hours and weekend work
Staff visiting customers/suppliers/channel partners/resellers
From your hotel room, trade shows, taxis or airline lounges (anywhere with internet access)
Functions
Back Office System – this method allows your users to utilise every function that they would normally have access to in Online Advantage as if they were in the office. Everything then becomes more accessible. It's that simple!
B2B Based – setting up users with a login to the B2B provides them every function in the B2B portal for a specified list of Customers that you determine as part of their user setup. They can then price products and place orders during customer visits without the need for a full back office system login
Benefits
Improved Staff Productivity – by allowing them to work when they need to, where ever they need to
Customer Responsiveness – answer your customers' needs quickly and easily even though you are not in the office
Staff Scheduling – makes the allocation of staff resources easier to perform
Staff Costs – reduce your costs of locating, housing and connecting staff to your information systems by giving them system access from home over the internet
Reliable – designed and developed by a company you know and trust to be robust and always available. Our E-Commerce portal has been built to maximise your investment in Online Advantage
Cost Effective – our web based systems can be implemented quickly and without significant capital outlay using a pay as you grow pricing mechanism
Secure – with state of the art security, firewalls and intrusion detection along with 24 x 7 monitoring and management your E-Commerce could not be in safer hands