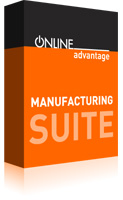 Job Costing
Our Manufacturing Suite is made up of the modules you need to successfully cost and control your factory operations whilst planning your requirements for labour, materials and plant such that you can predict your future position and plan accordingly.
The Online Advantage Job Costing module is a powerful project costing tool for monitoring the progress, productivity and profitability of each job you undertake.
This module enables the creation, tracking and costing of projects resulting in jobs that are more easily managed and profitable. The Job Costing system collects information from our other modules/ledgers and accumulates costs and values against nominated jobs. It is designed to cover the requirements of made to order manufacturers and jobbing/fabrication/project orientated businesses creating or building "product" to customer specifications or for internal project tracking.
Features
Job Information – can be made available on a project by project basis at the detailed "activity" level for both internal or customer specific external jobs
Profit Control – monitors jobs using actual v budgeted costs/revenue
Labour Actuals – via our Time Card Processing interface actual labour can be input and captured against each job
Consumables – the usage of any consumable, material or purchased/expensed item can be accounted for and posted to the appropriate projects
Invoicing – system includes a job specific and flexible Job Billing system with Interim Project Billing as required. Direct interface to the Accounts Receivable ledger for debt and cash receipt details available for customer based projects
Monitoring – tools for the tracking of costs and labour based time for internal and external (customer-specific) jobs
Tracking – Job Status tracking through the life of the project including job "activities" displays and the recording of project specific notes
Functions
Job Entry/Creation
Job estimate entry and cost/revenue "build-up"
Job Manager and Job Type allocation and reporting
Automatic Job Work In Progress ledger, WIP accounting and reporting
Job Invoicing including interim invoicing, and Job Credit Notes
Job Journals and Job Credit Note entry/processing
Job Status tracking, completed "stage" recording and notes recording facility
Job Finalisation, Job Write-off, and Job Re-Activation
Job Displays and Reporting on WIP, Costs, Revenue, Estimates versus Actuals and Profitability
Benefits
Information – a single source of job information held as one complete Project database
Control – you can finally get a system that will tell you where you are with every job at any time
Interfaced – the ease with which the other system modules/ledgers are interfaced allows all the appropriate quantities, costs and revenue details to flow directly onto your job ledger
Reporting – a complete range of job display and reporting functions covering job ledger details, profitability, account and transaction summaries and estimates to actual analysis
Accounting Simplicity – this module will automatically post WIP to the Balance sheet and allow the take-up of costs and revenue at any time through the life of a project
History – can be setup to keep many years worth of detailed job history for future reference and analysis