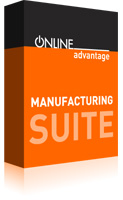 Manufacturing
Our Manufacturing Suite is made up of the modules you need to successfully cost and control your factory operations whilst planning your requirements for labour, materials and plant such that you can predict your future position and plan accordingly.
The Online Advantage Manufacturing module is an easy to use but comprehensive system for managing all components, assemblies and sub-assemblies used in simple to complex manufacturing processes.
Our Manufacturing interfaces with the Purchasing and Inventory systems for stock costs, availability and re-order triggers. It comprises the three main elements required in a Manufacturing solution of Bill of Materials/Specifications maintenance, Finished Product Costing, and Work Order Processing.
Features
Bill of Materials – complex manufacturing Specifications supported with unlimited levels as required
Requirements – accepts manual requests, automatically generated Work Orders (from Inventory) or Planned Orders (from MRP) to replenish finished stock
Order Processing – the Work Order system controls/updates material commitment, material requisition, material availability, materials issued with optional substitutions, production entry and by-product take-up directly back into stock
Indent Manufacture – the replenishment method for a manufactured product can be defined as "Non-Stock Work Order" and when a Sales Order is entered a Work Orders may be dynamically created to manufacture the ordered product as an "indent" order that relates to the original Sales Order
Integrated – detailed postings to the General Ledger for Materials, Labour, Overhead, Other Charges Recoveries and Production Variances to enable transparency through to financial reports
Costing Methods – choose between Standard Cost and Replacement cost on a item by item basis for your manufactured and/or raw material items
Product Costing – provides a comprehensive facility for the control of raw material costs, overhead percentages, external charges, labour costs/rates and prices helps identify unforeseen costs and maintain an inclusive cost for calculation sales margins
Material Requisitions – from Bill of Material/Specifications create manufacturing requirements to be recorded against Inventory and automatically updated as work orders progress
Specifications – include bill of materials, bill of labour, setup times, manufacturing instructions, load centres and handles unlimited levels
Factory Floor – provide raw material picking lists, detailed work instructions, safety & handling instructions as required by your individual processes
Labeling – built-in functions for the printing of labeling of finished product with flexible label layout design using our report designer functionality
Tracking – Work Order Status tracking through the factory, with completed "stage" recording and notes facility for reporting progress
Functions
Satisfy Sales or Replenishment Orders through Inventory Control as information is used to control the manufacturing process including the automatic generation of Work Orders of Kit Assemblies for finished product or sub-assemblies
Comprehensive range of Display and Report functions help the user to establish the status of manufacturing operations. Nominated products are shown with breakdown of costs with totals for labour, materials, setup and overheads
A comprehensive re-cost report shows details of old unit cost, new unit cost, old selling price and new recommended selling price
The cost recalculate function provides a cost change report and includes a suggested new selling price. This facility is extremely efficient compared to non-integrated systems as all the costs can be held within Online Advantage
Links to the Time Cards Module to record actual labour costs and calculate labour variances when a work order is processed
The Material Costing facility tracks the latest replacement raw material unit cost as recorded from Purchasing as well letting you set a Standard Cost
Packaging materials may optionally be isolated and incorporated into the product cost calculation
Repack Specifications provide the ability to "decant" bulk production quantities into the units of measure employed for marketing the product
What-If Specifications provide the ability to model manufacturing costs based on changes to materials, labour, overhead and other charges component costs
Batch sizes may be for a fixed quantity, Variable or in Multiples of a nominated quantity to permit tighter control over work order quantities
Multiple variations of a Specification may be defined based on the Site, the Load Centre, the Price List or the Version assigned to each one allowing for factors such as regional or seasonal differences to be accounted for in costing a product
Benefits
Cost Savings – this module eliminates the need to run and maintain separate spreadsheets to calculate the costs of finished product
Real Time – experience the benefits of real-time stock availability on raw materials, sub-assemblies and finished product
Visibility – Get your factory "online" so you can see what they are doing and where work is up too
Accurate Costings – use the "real" cost of manufactured products with a real-time interface to the latest costs of sub-assemblies and raw materials without all the additional effort
Interfaced – save time each month on the accounting as all the Manufacturing activity will be automatically posted to your GL Balance Sheet & Profit & Loss
History – let our Bill of Materials system provide you a history of the different costs to manufacture your finished product
Tracking – gain historical visibility of all batch/serial tracked items used as raw materials or as finished product manufacture
Competitive – keep ahead of your market with costing simulations, alternative raw materials, machines and labour to monitor the cost benefits to your manufacturing process