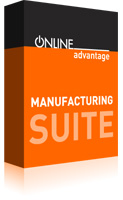 Material Requirements Planning (MRP)
Our Manufacturing Suite is made up of the modules you need to successfully cost and control your factory operations whilst planning your requirements for labour, materials and plant such that you can predict your future position and plan accordingly.
The Online Advantage Materials Requirements Planning (MRP) module gives you the ability to have the right materials at the right location, at the right time.
The MRP module complements the Manufacturing and DRP modules to assist in the management of inventory levels, replenishment and production planning. The MRP is another of the integrated Supply Chain Management tools included in Online Advantage.
Features
Materials Planning – MRP covering both Purchasing and Manufacturing requirements (see MRP Schematic)
Forecasting – a comprehensive Demand Forecasting system with the following features:

Forecast Plans
Variable Planning period
Stock Netting across nominated warehouses
Demand Aggregation
New Formulae
Demand Origin
Forecast Adjustment
Plan Comparison Tool
Forecast Review Flag
Obsolete Stock Flagging
16 standard Forecast Formulae
3 User defined Weighted Average Forecast Formulae

Planning – production planning facilities including:

Master Production Schedule (MPS) and Planned Orders
MPS Adjustment and Firm Order creation
Work Order creation/release
Inventory Requirements Display
Alternate Time "buckets"

Time Phased Planning – and replenishment with automatic planned order generation into flexible time "buckets" of days, weeks and months
Manufacturing Planning – also covers some MRPII facilities including Labour, Plant and Load Centre/Machine loading
Demand – order what you really need from your suppliers based on current and historical usage
Automatic Order Release – of planned purchase orders and work orders to firm orders
Unlimited Levels – of exploding linked requirements across warehouses, branches, stock locations, suppliers, raw materials, sub-assemblies, kits, finished products and stocked products
Functions
Planning calendar setup
ABC stock category analysis settings and reporting
Stock Line Demand allocation to assist with warehouse picking layout
Automatic Forecast Generation
Forecast Demand Adjustment and "fixing"
Inventory Requirements Display functions
ABC Analysis reporting
Line Demand reporting
Safety and Lead Time allocation
Replenishment methods including:

Manual or Planned Purchase Orders
Manual, Planned or Automatic Transfer Orders
Manual, Planned or Automatic Work Orders
Kit Assembly
No Replenishment
Plus Stocking Methods of Stocked, and Non-Stock and Indent
Benefits
Supplier Planning – order what you really need from your suppliers based on current and historical usage
Factory Scheduling – plan your Production Schedule so that you are not always under pressure to get work completed on the factory floor
Stock Planning – ensures appropriate quantities of raw material items are at each factory location for use in the manufacturing process. You can't make the products you sell without the right materials
Time Saving Replenishment – save your Purchasing users days each month by using our paperless Order Creation and Release routines that base their decisions on real-time values (from Inventory) for Stock Holding, Minimum Stock, Maximum Stock and Re-order Quantities, Customer Order requirements and Lead Times so that purchase orders and stock transfer orders can be created and sent in a timely fashion
Stock Control – controlling your stock levels is what MRP is all about. Enjoy lower stock holdings, reduce your investment in inventory and help your cash flow position. The end result is more timely replenishment – you can't sell what you don't have…..or what you can't get quickly