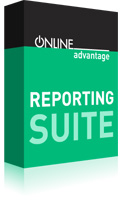 Report Analysis
Never before has management had a greater need to access their business data. Our Reporting Suite allows you the ability to access, format and deliver meaningful reports inside and outside your organisation to drive better decision making.
The Online Advantage Report Analysis tool is a multi-dimensional Business Intelligence Cube that brings your data to life. With the Online Advantage Cube you can handle the analysis of detailed sets of complex data moving the key elements in, out, and around the report as you require to give you a clear perspective on what is really happening in your business.
The Cube is built into standard Online Advantage to provide a powerful "what-if scenario" analysis tool without the need for additional third party software tools and complicated and costly configuration and training. It just works straight out of the box!
Features
Data Mining – is with easy using our Slice and Dice Cube for Analysis
OLAP – provides a built-in Online Analytical Processing (OLAP) tool with no additional user software licences required
Ranking – facility provides Ascending/Descending reporting at any time e.g. Top Customer or Top Selling Product
Export – single click data transfer to Excel or Text
What-If – perform "what-if" analysis on any data
Summarise – roll data views up and down — a versatile tool for manipulating the way data is displayed
Filter – exclude and include data as required
Drag & Drop – swap the current 'data view' using drag and drop control for an unlimited look at the same report
Store – save your Cube's to local disk storage and recall them later for further analysis
Functions
Automatic Pivot Tables allowing you to move "elements" around from row to column and even off the report parking them
Move the position of columns and see the Cube automatically re-display and calculate new totals accordingly
Drill-Down or Roll-Up your data as you see fit
Filter columns or Rows with the click of your mouse
Re-size columns and rows at will
Adjust Column Formats on the fly to show rounded figures
Choose from the Total Functions such as Sum, Average, Count, or None
Represent your data as a percentage of the column or row total
Use Horizontal or Vertical Splitter Bar's to provide more than one scroll-able window so you can be looking at the detail in one and the total in another
Rank your data in Ascending or Descending sequence on any of the available data elements
Print options of the "current" Cube view
Benefits
Evaluate – build better relationships with customers, partners and suppliers
Margin Control – improve your margins/mark-ups with better tools to view your data
Insight – uncover new business opportunities, hidden cost savings or sources of new revenue
Analyse – helps you access and navigate the reservoir of data stored in your business system so you use this data to make better decisions
Rewards – make your data work for You!