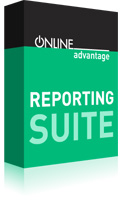 Report Designer
Never before has management had a greater need to access their business data. Our Reporting Suite allows you the ability to access, format and deliver meaningful reports inside and outside your organisation to drive better decision making.
The Online Advantage Report Designer is the creative tool that drives the Reporting Suite. Rapidly create flexible, functional and feature-rich reports with the Online graphical reporting tools. Excellent reporting tools help you to track, manage and understand your business.
Online comes complete with over 1000 standard reports across the five suites. Whilst these reports cover all the main business reporting requirements, there is often a need for ad-hoc reporting. Many businesses need to analyse their data and present it in customised formats. Many businesses have a need to create one-off reports to cover "special" reporting requirements. With the Online Report Designer you have control over the size, content, and appearance of everything in a report.
Features
Simplicity — our Report Wizard can take even the most non-technical user step by step through the process of writing a report without complicated questions so even a casual user can create reports with ease
Useability – users and developers alike can create new reports, copy and change existing reports, or simply customise existing standard Online Advantage reports
Deployment – all our reporting tools can be deployed from a central web server to your browser based clients, run over any type of network connection including LAN, WAN and Internet, and employed by any user with the correct privileges
Filters – nominate "fixed" filters for the report that are always used and "runtime" filters that let the user select what data they require when they run the report
Sorting – have complete control over the sequence of the data with the ability to sort the report on any of the available data fields/columns
Bookmarks – allows you to build a Table of Contents for navigating to sections of the report quickly and easily
Drag & Drop – report design is as simple as dragging the data field you want to put on the report to the position you want it
WYSIWYG – view the format of the report as you create it with our graphical report designer that is truly "What You See Is What You Get"
Functions
Design – reports using any of these items from the design toolbox:

Labels
Text
Check Boxes
Pictures
Shapes
Lines
Rich Text Boxes
Section & Page Breaks
Bar Codes

Use familiar Windows text formatting including font type, font style, size, colour and effects
Supports text alignments of left, right, centre and justify
Offers text word wrap, automatic field expansion and truncation functions
Fixed Images can be included on any report so logo's and pictures can be embedded into any section of your reports
Background images or watermarks can be added to reports or forms as required
Colour fill shapes for background colouring
Page Break control plus Report and Page Header and Footer sections
Unlimited "Group" Headers and Footer sections
All "sections" including the Detail section can grow or shrink automatically
Dynamic Image inclusion allows you to put a placeholder on the report and have the image to be shown come from your database so you can dynamically change the image according to the data you are reporting on. Great way to vary your logo, show specials using professional images, or to produce Price Catalogues
Selectable total styles like Sum, Average, Count, Minimum, Maximum, Variance, Standard Deviation
Use Grand Totals, Page Totals, Group Totals and Page Counts
Benefits
Insight – delivers in-depth insight into your business operations with on-demand ad-hoc report creation
Potential – unlock the reservoir of data stored in your business system so you can take advantage of the lessons to be learnt from the statistics and trends sometimes hidden away in you raw transaction data
Access – put the power of report generation into the hands of the people who need it without the need to purchase expensive additional software and training
Cost Effective – save time and money in the report creation and customisation stages with a simple to use and time efficient report designer that can be deployed in seconds. Save on the expense of pre-printed stationery such as letterhead, statements, invoices and despatch dockets by adding your company logo and details to your reports.