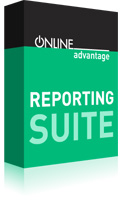 Report Viewer
Never before has management had a greater need to access their business data. Our Reporting Suite allows you the ability to access, format and deliver meaningful reports inside and outside your organisation to drive better decision making.
The Online Advantage Report Viewer is where your reports come to life. It's the tool that allows you to browse through your reports, reformat them into other Windows file formats, filter them, print them, store them and so much more.
Since you never really know just how you want to use a particular report until you are reading it, we created the Report Viewer so that users can make on the fly decisions about such things as output file formats and how to filter a report. All your Online Advantage reports have a common user interface that is easy to follow but flexible enough to give you the power you need.
Features
View – on screen preview of all reports – by default you can preview reports in Acrobat's PDF format
Print – in full colour or black & white, to either your local printer (one connected to your PC) or to any printer available to the server
Email – send reports as an attachment to an email or embedded within the email body
Fax – fax documents such as remittance advices or purchase orders direct from the report viewer… no need to print first and send manually via the fax machine
Export – extract data easily into Excel, CSV or xml format so you can upload it to other places – like uploading bank transactions to your banking institute
Output – your reports can be viewed in a number Windows file formats including Excel and Word and can be archived for later retrieval and viewing via a Table of Contents
Bookmarks – use the pre-generated bookmarks to navigate the report in the Acrobat or Generic file format viewers
Filters – with our built-in run-time filters users can determine just how much data they want to see on their report by putting in your selection criteria
Schedule – you can schedule reports to run once at a later date, or on a regular basis – either on specific days, weekly or monthly. If you review sales reports every Thursday morning, you can schedule your report to run after COB Wednesday night and have it waiting in your inbox when you come in
Manipulate – change the way the report looks with the Cube Viewer
Functions
Output Options – your reports can be output using any of the following "standard" Windows file formats:

Microsoft Excel (.xlsx)
Adobe Acrobat Reader (.pdf)
Microsoft Word or WordPad (.rtf)
Browser HTML (.htm)
Tab delimited Text format (.txt)
Comma Separated format (.csv)
XML file format (.xml)
Flash Viewer format
Silverlight Viewer format

Filters – with our built-in run-time filters users can determine just how much data they want to see on their report by putting in unlimited selection criteria that will filter out any data that does not match including the following filter types:

Equals To
Not Equal To
Containing
Not Containing
Greater Than (and Greater Than or Equal To)
Lee Than (and Less Than or Equal To)
Starting With
Ending With
Not Starting With
Not Ending With

Nested Filters – the ability to setup complex filters in nested "if this" or "if that" style selection criteria.
Benefits
Time and Cost Saving – you no longer have to purchase a separate reporting tool and send people on long specialised training courses to learn how to run a report
Simplicity — with one simple to use Report Viewer used to view every report in Online Advantage, there is only one tool to get familiar with and users can apply that knowledge to any report
Insight – delivers in-depth insight into your business operations with on-demand reporting and filtering
Analyse – access and navigate the reservoir of data stored in your business system so you use the information to make better decisions
Flexibility – print, email, fax, export or archive reports in any format at any time